13 Moe Hentai Questions
Hi. Please play my short Hentai Quiz.

I hope it brings a smile to your faces!
This game is meant to bring a big smile in these troubled times to you.
Pucker up those smiles and start playing.

This game is fun for friends.
Maybe you can get a Zoom meeting going.
This is basically a Jack Box style game if you play it like that.
Jeopardy.
Of course you can also play this game on your own.
You Can play it in your bed.
On your phone.
Test all of your hentai knowledge!
See if you can defeat all the hentai ghosts with your superior hentai knowledge.

Have fun.

~April
Comments
Log in with itch.io to leave a comment.
i got all 3 well dones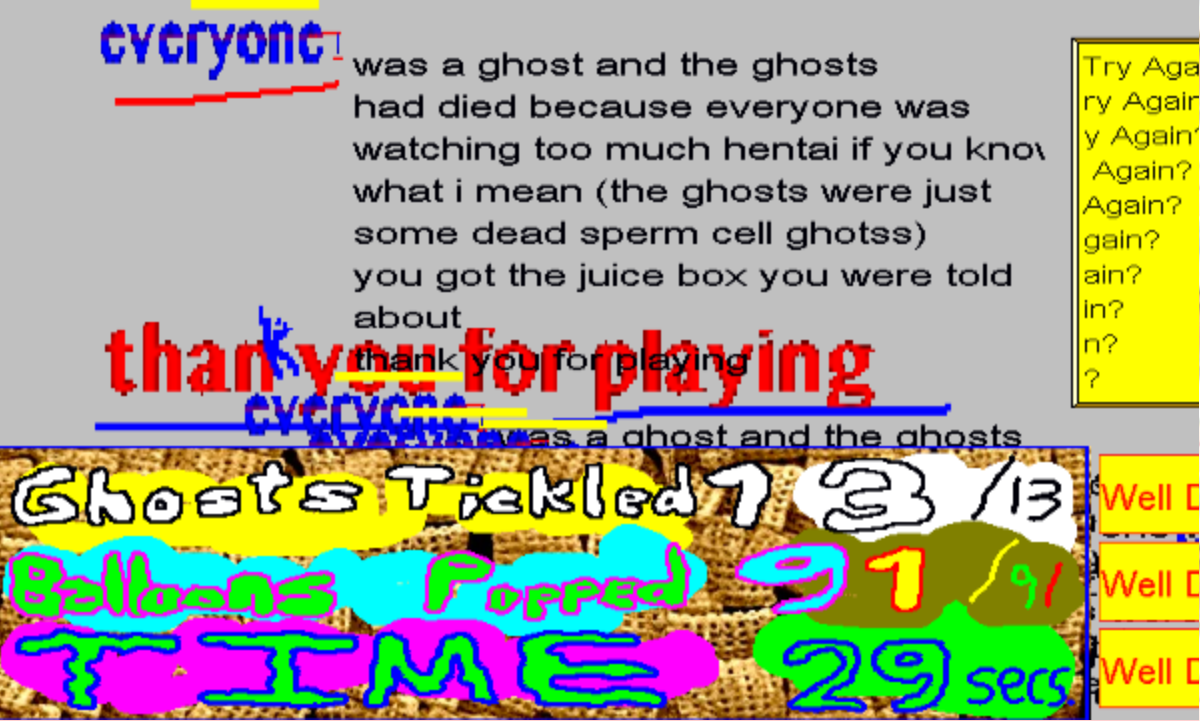 Well, well done! I am glad that you mastered the game! Hopefully you know a bit more about hentai than you did before and you have trained your reflexes to play more video games. Hurray!

~April
incredible animations. your style is really well developed and kewl. when i started this quiz i was a hentai baka, now i am a hentai otaku. thank you for helping me learn :brain: :zap:
Those are some great puns, thank you for playing this game! I like to think of myself an educator first and a pornographer second. :-)

~April
This is a good game. You've done ugly in a way that makes it clear it is a stylistic choice. reminescent of Hypnospace Outlaw. More like this please.
Is that the episode of Cowboy Beeboop where they smoke weed? What do you mean ugly? I always find the lines between bad/good to be arbitrary. Is it ugly if you like the way it looks? Traditional beauty is often boring and unexciting! Well, I am glad that you seemed to have enjoyed it regardless. I am young and try not to repeat myself. My grandma once told me to sew my wild oats while I was young. That is sort of a weird thing for a grandma to say in regards to sexual conquest, but I applied it to making games instead. I'd rather make 1,000 short different games than put my eggs in one Skyrim. Anyhow, maybe if more ppl donate more $$$ I will make something similar to this!

~April
bamboozled by hentai ghosts oNCE AGAIN